FLORIDA CONCEALED CARRY FOR BUSINESSES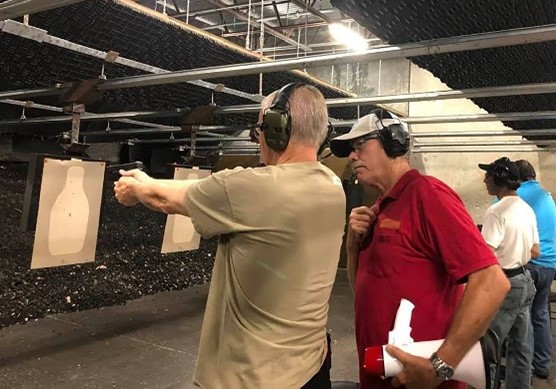 PURPOSE
Some businesses do allow their employees – or certain employees – to carry onsite. This course is designed so that all employees who carry have the same comprehensive education in concealed carry practices and Florida law. No business wants to have one armed employee who took a 45-minute class and shot one round into a bullet trap, while another spent 5 hours in class and qualified with 50 rounds.

This class makes certain everyone has the same knowledge base and expectations. The class is based on the USCCA's comprehensive Concealed Carry and Home Defense Course and can be tailored to include your company's specific requirements and restrictions.

The class starts with the basics of handgun mechanics and safe handling and includes personal defense.
GOAL
To keep people safe if they choose to own a firearm – and to protect those who do not own firearms from someone carelessly handling one.

This course is designed as a benefit businesses can offer their employees in order to keep them – and others - safe if they are permitted to carry at work
COURSE PROCESS
The course includes qualification on a Florida shooting range following classroom time. Once students qualify, they will be issued a certificate that can be utilized to secure a Concealed Carry license in the state of Florida. Non-qualifying students will be given remedial options that may allow them to qualify. Businesses will be notified of all students' pass-fail status.
COURSE FORMAT
The class ranges from 5-7 hours, depending on number of students, additional content requested by the business, etc. Qualification time on the range may be scheduled for a separate day if desired. Estimated range time (depending on the number of students) is around 1 hour.

The class is taught by a USCCA Training Counselor. Class outline follows the contents below:

DEVELOPING A PERSONAL PROTECTION PLAN
Why Conflict Avoidance Is So Important
Situational Awareness
The Color Codes of Awareness
Areas to Avoid
Cover, Concealment and an Exit Strategy
How a Permit to Carry Fits
SELF-DEFENSE FIREARMS BASICS
Universal Safety Rules
Clearing a Semi-Automatic
Clearing a Revolver
Understanding a Gun's "Action"
Understanding Revolvers
Understanding Semi-Automatics
Modern, Striker-Fired Handguns
Understanding Magazines
Selecting a Handgun
Ammunition Components
Ammunition Care and Storage
DEFENSIVE SHOOTING FUNDAMENTALS
Defensive Shooting vs. Marksmanship
Seven Fundamentals of Marksmanship
THE LEGAL USE OF FORCE
Defining Reasonable Force and Deadly Force
Detailed Definitions of Deadly Force Rules, Including Scenarios
What Prosecutors Will Want to Know
Defending the Home
Defending Property
Florida Law
VIOLENT ENCOUNTERS AND THE AFTERMATH
Understanding Fight or Flight
Effects of Adrenaline and Endorphins
Recognizing a Threat
Issuing Commands and/or Evaluating Options
When You're Left With No Other Choice
When the Right to Use Deadly Force Ends
The Immediate Aftermath
Phone Calls to Make
When the Police Arrive
And more…
REGISTRATION REQUIREMENTS
If we are holding the class on-site, we need at least 7 participants. Otherwise, we can discuss enrolling employees into an open enrollment session when one is available.